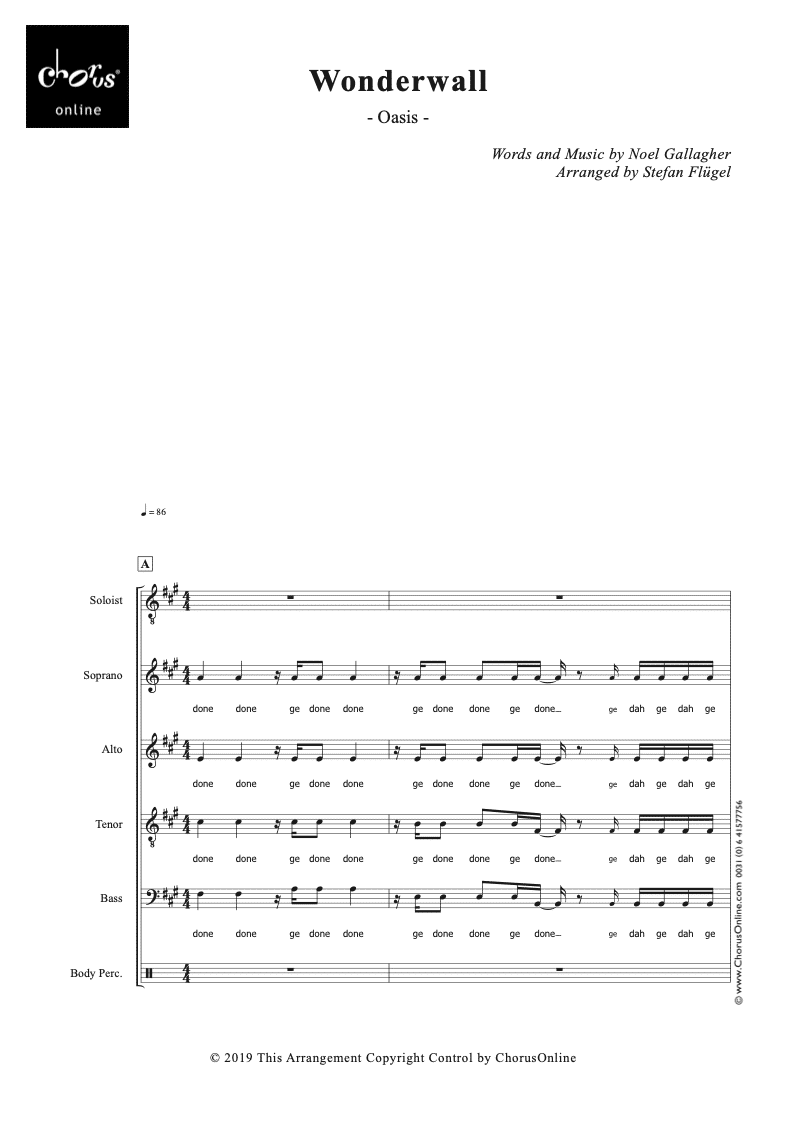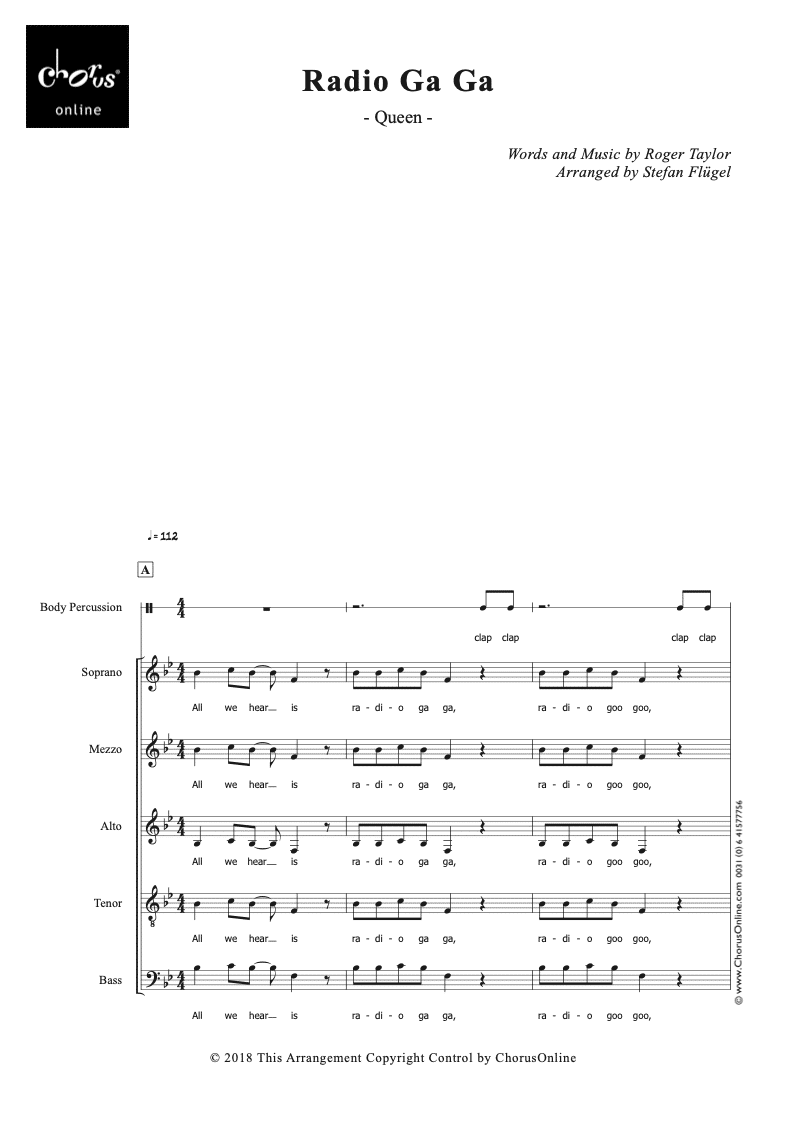 A CAPPELLA

A cappella sheet music of popsongs, rocksongs & more
Vocal Pop
Arrangements by Stefan Fluegel
No matter if you sing (or conduct) an amplified pop choir or a vocal band – here you will find arrangements for your ensemble.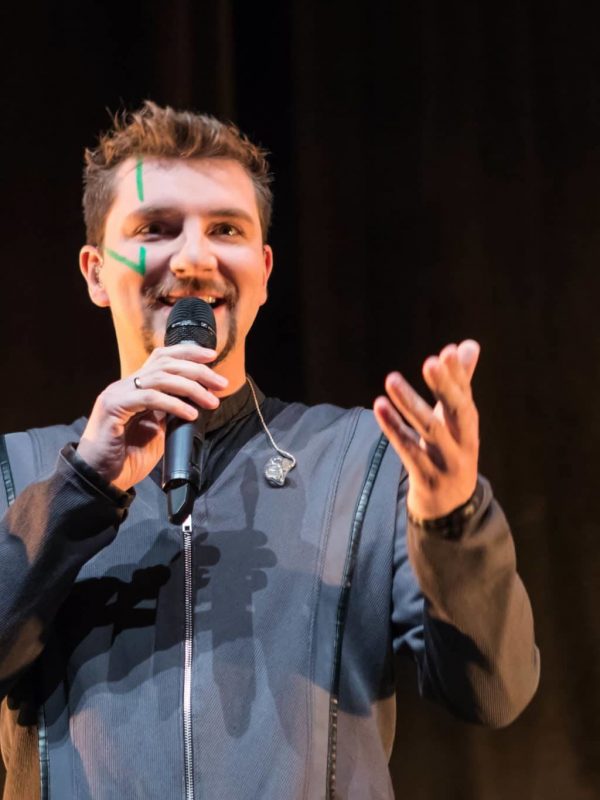 Singing together – not only at the same time
A great a cappella arrangement ...
… is more than a song adapted for voices. If singers are challenged but not overstrained, they can make music and meanwhile perceive what the rest of the group is doing. This is how simultaneous singing becomes a shared experience of shaping time through music. What sounds quite easy makes the difference between good and great a cappella arrangements. The perfect arrangement is certainly an illusion, though. Fortunately, each of us has very different musical abilities and preferences. My arrangements do not try to be perfect. I want to pave the way for everyone to sing with joy and "within the comfort zone" of possibilities. My arrangements for vocal groups support you in the best possible way to achieve quick success and make singing fun from rehearsal #1. With more than 20 years of experience, I focus on catchy melodies – also in the background parts, careful handling of interval leaps and a well-balanced ratio of tension and lightness. Meanwhile, I published more than 100 arrangements for various voices. Browse my online shop to find something you like or just send me a message to order a custom-tailored arrangement for your ensemble.
Most popular arrangements
"Very good material. Very readable sheet music."
"Great arrangement of HUMAN for women's choir."
Mixed Voices, Female Voices & Male Voices
Here you can find all arrangements for mixed voices – from simple SAB for ensembles with few men to eight-part fireworks for all who can draw from the full.
Arranging for female voices is always a challenge. Since there is a comparatively little expanse between highest and lowest voices, space wants to be used well. Here you can find all my arrangements for female voices.
My first arrangements more than 20 years ago were adaptions for my own male a cappella group, long before I started to write for other voices. Even though I don't sing in a male ensemble anymore, you will find many arrangements here for male voices only.

I bought two arrangements today and I'm very satisfied. Also like the ability to easily download them.
Pauline Daglish - via Chorusonline
Suitable sheet music for your choir
One arrangement,
two approaches
When arranging for a cappella ensembles, there are a few general guidelines concerning vocal ranges of the individual registers or in terms of phrase lengths and "voicings" (the way tones are layered to chords). This is comparable to the size of dresses in a clothing store and allows me to write arrangements that fit the needs of as many vocal groups as possible. Feel free to browse my selection of universal arrangements. Maybe you'll find the one you want to sing with your group?
Some tenors only start blossoming above the staff system, while others are reluctant to travel to such heights without oxygen. There are basses who sing demanding rhythmic figures while they snap and clap to it, while others get sweaty as soon as eighth notes appear on the horizon. The list of individual strengths and weaknesses could be continued indefinitely. If you want to ensure that special attention is paid to the individual characteristics of your choir, you can order a tailor-made arrangement.
Questions? Just send me a message!